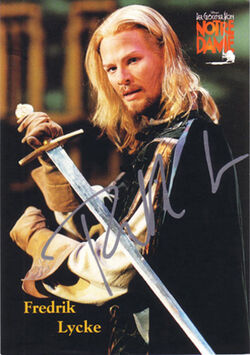 Ein bißchen Freude
(Rest and Recreation) introduces us to
Phoebus
. Like the movie, Phoebus has been relieved of military duty and has been promoted to Captain of the Guard. Unlike the Disney movie, Phoebus here acts more like he does in the book. He just wants to indulge in vices and have lots of "wine, women and song" you know A bit of Joy. He also flirts with a random girl during the course of the song. It also gives us some basis for character development with Phoebus seeing him start out as more of a member of the "common, weak, licentious" crowd to becoming a more righteous person later at the end of Act one.

Musically the song uses the Phoebus' Lemotif from Disney (you know that march music you hear when Phoebus is first introduced). It's a good introduction to Phoebus as a combination with Disney and the book. The song has good energy and a bit of fun and it's nice to hear Phoebus get a song to himself.
Phoebus:
Four years at the front
Gives a man a zest
For a little rest
And recreation
For the chance to hunt
For the spiciest
In the way of rest
And recreation

Give me your girls of pleasure
Your grapes of merlot
Show me your wares and measure
One large sample
Sample 'em at my leisure
This three-day furlough
Should be ample

Monique:
Come on, Colette.

Colette:
Wa-wa-wait! What do those stripes mean?

Phoebus:
Captain.

Colette:
Captain?!

Phoebus:
Darling, to be blunt
You are with the best
That's why I've been blessed
With this promotion
I've been working hard
Now I'm gonna be
Captain of the Guard
Ain't that a notion?

Like other true knights
I've got ambition
But for a few nights
Fun is my mission
So what do you say?
Care to share a day
Of rest and recreation!